Spray coating is one of the most commonly used surface finishing techniques. Spraying can be done manually or automatically, using spray coaters which can also be very different from each other. For example, Cefla Finishing spray coaters include simple or complex lines, flatbed lines, elliptical solutions with vertical lines, as well as high-tech spray coating robots, all relying on software to ensure top class performance.
features
How to choose the best spray coating technologies?
There's a huge variety of products that are finished by spray coating. For all of them, the requirements are the same in an industrial finishing line. In other words, whether in the automotive sector, the furniture sector, or for any durable consumer goods, the factors that determine the choice of spray coating machines are:
Guarantee of superior and consistent quality finishes, for which line and process automation is essential.
Flexibility in every phase of the process: possibility of processing small batches efficiently, with customizations and special processes on request.
Transfer efficiency and productivity: essential for securing good margins. Software and IoT solutions help monitor and optimize processes through every stage, while patented technologies help to become more productive.
Constant innovation: to define better performing and increasingly effective methods, and to develop new techniques for high-performance surfaces.
These factors ensure
greater competitiveness
in a market that requires shorter delivery times, lower costs and better quality.
Types of spray coating machines
Depending on specific needs, and the type of product and material to be finished, an integrated industrial spray coating line is made up of different machines. The main machine categories are:
Spraying booths, and in particular, pressurized ones, guarantee top quality and excellent results thanks to the absence of atomised powders and particulate matter, while maintaining a constant temperature and air flow internally. The manual spray booths made by Cefla, either dry or wet, are ideal for primary manufacturing companies relying on the irreplaceable manual skills of professional skilled labour.
Our oscillating spray coaters, with one or two arms, meet the needs of manufacturers who process small-, medium- and also large-sized production volumes. Our range of oscillating spray coaters integrates the latest technological innovations developed for different industries.
Each solution can be customized according to the degree of production efficiency and flexibility needed, and in such a way as to make service easier. Different materials, flat and textured panels, special software, reading barriers. The machines included in this category are Prima, Mito, Easy and Roctre.


The perfect rotary or elliptical spray coaters for users looking for unrivalled performance in terms of productivity and speed, without ever compromising on quality. The high number of guns in these spray coaters allows for uniformity of application. The machines in this category are Rotostain and Elispray.
The spraying robots feature high production capacities for a top rate quality finish. Our range of Cartesian robots working horizontally ensure flexibility and speed and the same time, computerized precision, even in oscillating mode with moving workloads. Our anthropomorphic coating robot igiottoApp, with 6 axes, combines the best painting technologies with maximum versatility in handling three-dimensional objects. Configurations with one or two robots operating in stationary load or oscillating mode are possible. In tracking mode, with two robots processing the same workpiece simultaneously, processing times drop dramatically. The machines in this category are iBotic and iGiotto App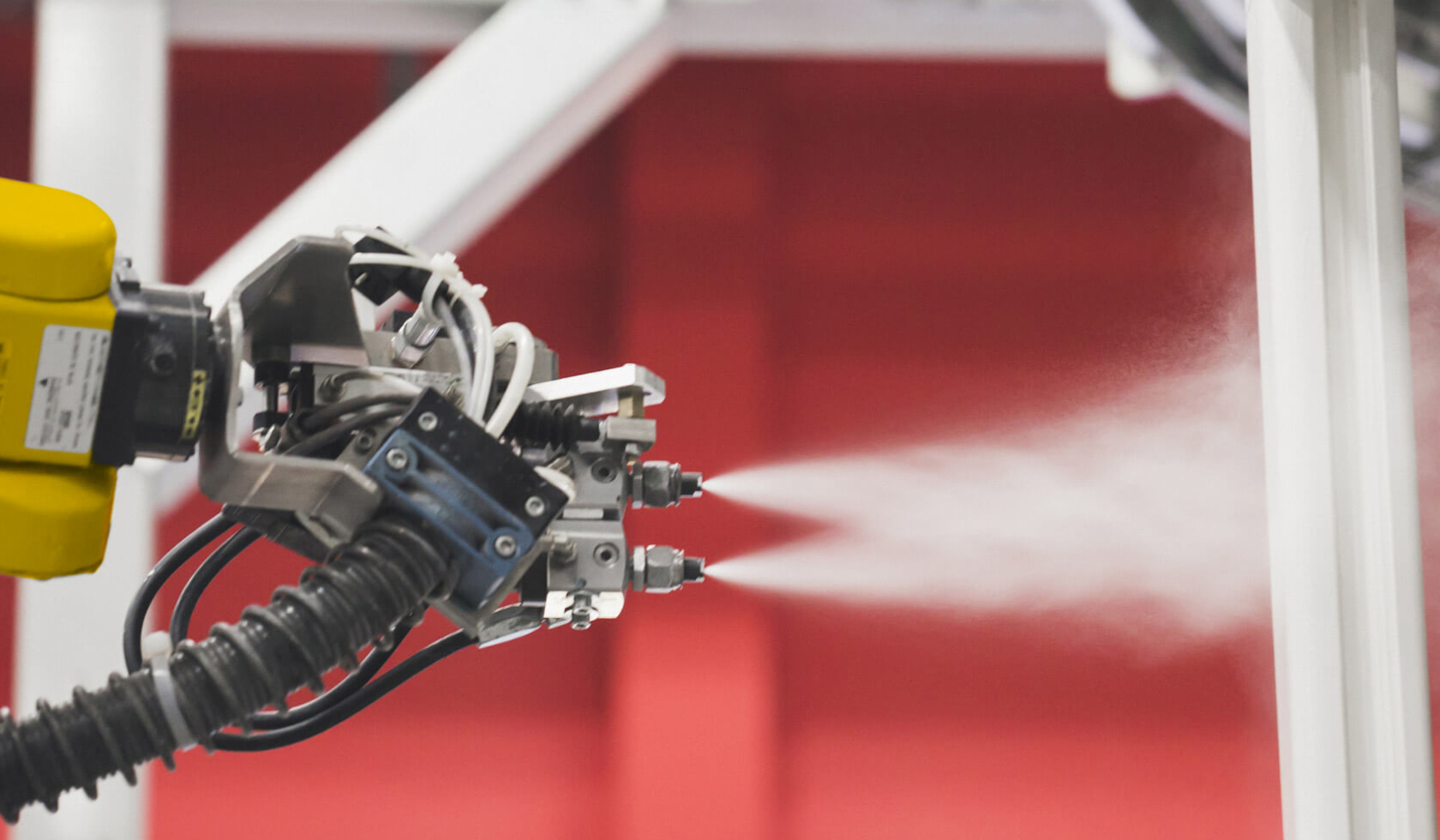 iGiottoApp and cVision
When it comes to coating complex three-dimensional objects, achieving top quality finishing while maximising production efficiency and minimising machine downtime is quite a tall order. iGiottoApp and cVision can respond to this need. This automatic coating system includes a latest generation 3D reading feature (laser + video camera) to capture the positions, dimensions and shapes of the workpieces fed along the line, to a degree of precision never achieved before. cVision acquires the 3D image of the piece to be coated and uses its special software to determine the best trajectories.
Discover more
Some of the machines for spray coating to make the most of your finishing line
We have helped hundreds of companies around the world achieve their quality, efficiency, and productivity goals. Here are their stories.
We have helped hundreds of companies around the world achieve their quality, efficiency, and productivity goals. Here are their stories.
WHITEPAPER
Do you know how much it costs you to work with a paint recovery system?
Explore the topic on our blog. You can find articles on technologies, innovative techniques, and tips to improve the efficiency of your finishing line.
Explore the topic on our blog. You can find articles on technologies, innovative techniques, and tips to improve the efficiency of your finishing line.
Why choose a Cefla Finishing automatic spray coating solution?
Our spray coaters respond brilliantly to all the needs listed above, meet the budget requirements of both small- and large-sized companies and are suitable for any production volume. Innovative accessories, inherent flexibility and the ability to customise each solution according to specific needs (especially when our customers' own products and lacquers can be tested in our finishing laboratory) make of our product offering the most complete range available today.
Frequently Asked Questions
Frequently Asked Questions
01
On which materials can I spray coat?
Any material, bearing in mind two conditions.
That the coating must match the substrate material to ensure proper adhesion.
That the piece being coated must be able to pass through the machines/systems.
02
What are the advantages of spray coating?
Firstly, spray coating ensures all sides of the piece are covered. Secondly, the product shape is unimportant and, since it is not a contact-type coating, different tolerances between products are compensated for automatically.
03
What are the consumption factors I need to take into account in a spray coating process?
Lacquer is the key factor to be monitored, as it is the most expensive aspect of the process. Any variations can make the process more or less sustainable and also have an impact on process quality.
04
How simple is it to use a spray coating machine?
This depends on the type of machine, the type of conveyor (paper or continuous belt) and the type of filtration (paper or water).
Those who opt for a paper conveyor machine will observe many similarities with manual coating methods: start-up, spray gun feeding, cleaning and replacing filters.
Those who go for a machine with continuous belt conveying will need to perform preparation and maintenance associated with the retrieval and cleaning trolley; nevertheless, these tasks are simple.
05
How long does it take to clean a spray coating machine?
On machines with paper conveying and paper filters, very little time is needed. All you need to do is clean the guns and pump, and replace and discard filters as necessary.
Continuous belt machines require more time at the end of the shift as maintenance tasks concerning the belt retrieval and cleaning device needed to be performed.
With paper-based filtration, the filters must be replaced; water-based filtration requires no maintenance as the system continuously "self-cleans" during operation.
06
Can I measure lacquer consumption on spray coating machines?
Thanks to flow control systems, you certainly can. However, the coating quality is not necessarily strictly linked to lacquer consumption.
07
I want to switch from manual coating to automatic coating, what do I need?
Space requirements are similar to those of a manual booth. All tasks can be performed by the same worker who, instead of coating, operates the machine.
08
Can I manage colour changes?
Yes, dedicated procedures mean they can be managed quickly on all our machines.
09
Is there any after-sales service available near me?
Our international network of distributors and branch facilities is widespread globally, and most likely, you'll easily find the right contact in your own country. Otherwise, in just a few days we will send spare parts and technicians straight from our headquarters.
10
Do spray coating machines need a lot of maintenance?
As with manual coating system, maintenance largely concerns the pump and spray guns (i.e. the coating application system).

In the case of a machine with continuous belt conveying, cleaning and retrieval system maintenance is also required.

Machines with water filtration will also require maintenance of the continuous filtration device.