What is meant by wrapping technologies?
Industrial wrapping technologies refer to a set of processes, techniques and materials used to protect and enhance the appearance of various surfaces. They are used in a wide range of sectors, from furniture and window frames to furnishings, caravans and naval fittings.
Benefits
What are the benefits of industrial wrapping?
Industrial wrapping technologies can help your business in many ways.
Protecting surfaces from wear, abrasion, UV radiation and more.
Introducing special characteristics to enhance aesthetic appearance or performance.
Cutting costs for service and maintenance by increasing the life of the products.
Responding to increasing customization requirements and offering a wider choice of different decorations
Wrapping machines: how do they work?
Among the machines used for wrapping, the solutions by Cefla Finishing and Düspohl (our profile wrapping brand) are trend-setters in the marketplace. Through these two brands, we offer tailor-made and innovative solutions for wrapping wooden, plastic and aluminium profiles.
Our classic wrapping machines have components that help cut profile changeover time requirements. They are equipped with the patented Click-Fix system for changing wrapping material reels without requiring any equipment. Feeding rollers can also be adapted without any equipment thanks to a grid system and are fixed automatically.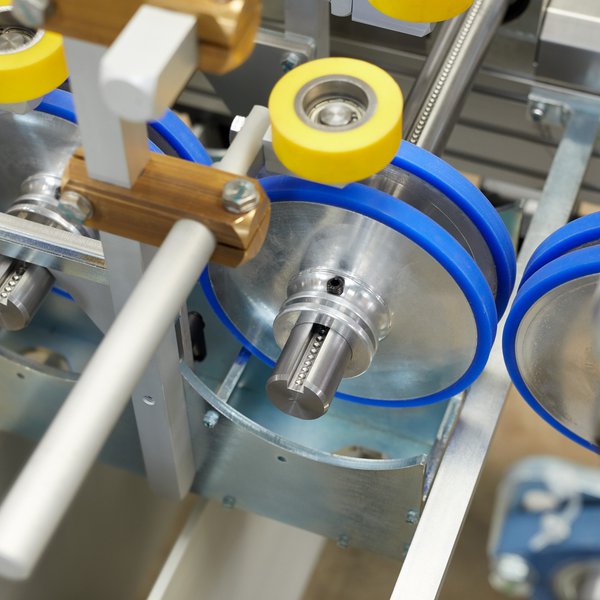 Profile wrapping: less glue, better quality
Many wrapping or covering processes require the use of glue. Efficient glue application is essential to ensure end product quality.
However, high glue requirements mean high costs, also due to energy consumption. The goal is therefore to reduce both glue and energy consumption, through technologies designed to maximise efficiency.
Wrapping technologies to improve process efficiency
Cefla Finishing and Düspohl create efficient solutions both for profile wrapping and for the lamination of panels and their edges. All components in every machine are constantly optimised to offer solutions that reduce profile changeover times and guarantee consistent quality.
Each Düspohl wrapping solution is individually configured to meet the needs of each specific customer project. High-quality basic equipment is outfitted with a careful selection of components to increase productivity and process safety.
Combining all the advantages of lamination and wrapping, our Düspohl brand also creates machines for wrapping panels and their edges, up to a width of 1400 mm. Düspohl supplies lines including a calender area, coating area, melter, glue application system and separation system. Simultaneous wrapping of the top and bottom sides is also possible.



A key process for successful wrapping or veneering, thermoforming and gluing occur when applying PVC foils to cabinet or kitchen cabinet doors, drawer fronts, etc. which are often made from materials such as MDF.
Discover our wrapping and thermoforming machines
Wrapping machines minimise downtime
When production is smoothly up and running, having to stop the line to change the wrapping material used is a huge waste of uptime. The whole process has to be started from scratch, and more scrap material and waste are produced. How to solve this problem?
With a double unwinder equipped with an automatic changeover or manual changeover system, you can continue production without any interruptions caused by sheet feeding issues.
The melters of the Düspohl and Cefla machines allow a continuous feeding process without any production stops and without wasting even just a gram of glue - achieving 100% glue application.
Automated processes for more efficient production and consistent results
With automated processes, productivity is enhanced and businesses achieve better results.
Many different Cefla Finishing and Düspohl profile wrapping automation solutions are available: from automatic loading all the way to a wide choice of synchronized separation systems and unloading systems.
We have helped hundreds of companies around the world achieve their quality, efficiency, and productivity goals. Here are their stories.
We have helped hundreds of companies around the world achieve their quality, efficiency, and productivity goals. Here are their stories.
WHITEPAPER
Are you looking for some basic knowledge in profile wrapping?
To help you to get some orientation in this large field, we have published our Quick Guide to Profile Wrapping – especially suitable for beginners.
Download the white paper
Explore the topic on our blog. You can find articles on technologies, innovative techniques, and tips to improve the efficiency of your finishing line.
Explore the topic on our blog. You can find articles on technologies, innovative techniques, and tips to improve the efficiency of your finishing line.
We've been innovating in the surface finish field for sixty years.
Experts sharing skills in all areas and all industries, Cefla Finishing is a hub of expertise, a trusted source and partner who can help you achieve your business objectives.
Frequently Asked Questions
Frequently Asked Questions
01
What does profile-wrapping mean?
Profile wrapping is a process by which a decorative surface is laminated onto a substrate in linear form. This is done by means of a profile-wrapping machine.
02
Why was the process invented?
Several decades before a decorative surface was manually laminated, mainly wood veneer, onto a substrate. The increasing demand for furniture at the beginning of the 60s was the reason profile-wrapping machines were developed.
Beyond that the pressure at costs and prices as well as the requirements of the customers regarding the surface design played a substantial role.
One of the first such machines was built by Mr. Reinhard Düspohl.
03
Which industries use this technology?
Industries processing derived timber products
Woodworking industry
Industries processing wood composite materials
Plastics industry
Metalworking industry
04
Which substrates can be laminated?
WOOD COMPOSITE MATERIALS
Particle board
Medium density fibreboard (MDF)
High density fibreboard (HDF)
Plywood
Extruded wood (plastics+sawdust)
SOLID WOODPLASTICS
PVC (polyvinyl chloride)
PP (polypropylene)
ABS (acrylonitrile-butadiene-styrene)
Expanded polystyrene
and others
METAL
05
What are typical wrapping or overlay materials?
Wood veneer

The wood veneers are divided into two major groups: rotary cut veneer and sliced veneer. Sliced veneer is the most commonly used veneer in profile wrapping. The complexity of the core material dictates the quality of veneer to be used.
Manufactured fleece-backed veneer, as a fleece is glued on the back of the veneer. The veneer becomes more flexible due to the glued-on fleece.
The quality of symmetric and asymmetric finger-joint veneer is visible after the lacquering process. In the case of poor quality, two different pigmentations are visible. Different pigmentations are avoidable using veneer with an aluminium indicator.
Veneer with an aluminium indicator is always in roll form. An aluminium strip is applied at the joint between the veneer sheets. This type of veneer needs to be ordered with a specified sheet length within the roll of veneer. The sheet length needs to be 1'' longer then the profile it will be applied to allowing for some length variations in the substrate. The advantage of the aluminium indicator is, that the finger-joint strip will not be placed on the profile and ruin its aesthetics. This is accomplished by using sensors on the machine to pinpoint the position of the aluminium indicator at the joint. The signal is used to position the substrate with the aluminium indicator in the veneer roll. Doing it this way, the beginning of the veneer sheet is certain to be synchronous with the beginning of the substrate.

Paper

Different paper types are available for profile wrapping. Paper for profile wrapping is usually made like a sandwich. It starts out with the base paper that is also referred to as the backer. The backer is available in different colours and different weights. The second layer is the decorative layer. The decorative layer can be of a solid colour or with a printed pattern. Usually 30g paper, this decorative layer is laminated to the base paper. The colour of the finished paper depends on the colour of the base paper. These papers can range from 30 to 300 g and more. Most commonly used papers are 60 or 80 g papers. They can be wrapped around very complex profiles and at the same time they are not as fragile as 30 g paper. Paper can be wrapped around sharp edges (with the exception of very heavy papers).

Laminates

Laminates are decorative surface papers impregnated with melamine resins and then pressed over Kraft paper core sheets impregnated with phenolic resin. These sheets are then bonded at pressures exceeding 200 Kg/cm2 at temperatures approaching 150°C. Finished sheets are trimmed and the backs are sanded to facilitate bonding. Laminates are more difficult to wrap in comparison with wrapping paper, because papers are more flexible. The variety of laminates ranges from high-pressure to low-pressure to continuous laminates. There is a difference in the way theses laminates are manufactured as well as in the flexibility of the material. Sharp edges are not recommended. For the flooring industry the laminates are coated with aluminium oxide.
In case of profile-wrapping with laminates an extremely long wrapping zone is necessary. The temperature of the laminate, if corners are to be wrapped, must reach 300° C in the relevant area.

Vinyl (Films)

There are many different types of vinyl available. The most commonly used materials are hard / soft PVC and PP. Vinyl can be of a solid colour or have a printed pattern. Different topcoats are available for interior or exterior products.
Interior
No special requirements.
Exterior
The vinyl has to be durable against ultraviolet rays. A special vinyl with a wood-like surface (veneer characteristics) and aluminium-like surface (aluminium characteristics) is available for exterior application, which is mainly used by the PVC window industry.
The newest development is a thermoplastic film for the decorative finishing of windows, doors and other building elements. The film is also suitable for regions with harsh climates, because of a higher weather and temperature stability. Also under difficult conditions the foil possesses outstanding colour and gloss stability. Before glue application, the processing temperature of "Renolit-Fast" has to be 80°C with strict tolerance levels.
06
What are the customary adhesive types used for wrapping?
Hot melt glue

Today hot melt glue is the most common glue used in the profile wrapping industry. Main advantages in comparison with other glue types are: high combination potential between materials, higher transport speed of the profile wrapping machine possible.
The difference between filled and unfilled hot melt glue is not visible. Only the weight differs. Filled glue is heavier than water. We strongly advise against using filled glue for a slot coater.
The difference between "non humidity-reactive" and "humidity-reactive" adhesive is that humidity-reactive hot melt glue is received during the interlacing of a chemical compound (isocyanates) with the humidity from the air. After the interlacing is finished (approx. 3-5 days) it is impossible to re-activate and/or liquefy the glue. The developed adhesive compounds possess extreme temperature and water resistance.

Non-humidity-reactive glue:

EVA (Ethylene-Vinyl-Acetate)

By the abbreviation EVA we mean a copolymer, which is made of ethyls and vinyl acetate; for over 30 years the basis polymer for hot melt glues. The cost/performance ratio of EVA is good. Disadvantages of this product group are: limited resistance to heat (re-activation temperature: 80 – 100°C) and humidity (no exterior use).

APAO (Amorphous-Poly-Alpha-Olefin), abbreviation PO (Polyolefin)

This abbreviation stands for several terms: polyethylene(PE), polypropylene (PP), polybutylene (PB) et al. For adhesive production these pure polyolefins are only negligibly suitable. Addressing a wider interest are the amorphous polyolefins manufactured in a special procedure as well as their co- and terpolymeres, which is then commercialised under the comprehensive term amorphous-poly-alpha-olefin (APAO) or in short polyolefin (PO). The main advantage in comparison with EVA is superior heat resistance (re-activation temperature 110 – 130°C). PO is not suitable for exterior applications. High temperature resistance and relevant demand for high melting energy reduce the capacities of all available melting aggregates up to 50 %.

Humidity-reactive glue:

PUR (Polyurethane-Reactive)

The abbreviation PUR stands for single component, humidity-reactive polyurethane hotmelts. The PUR glue type fulfils the highest requirements regarding temperature-, water-, steam -, detergent- and solvent-resistance. The main advantages compared with EVA and PO are: High heat and water resistance. PUR adhesives are suitable for interior and exterior use without exception (all materials). PUR glue comes in block form (blocks weighing 2 - 18 Kg) and barrel form with 200 Kg/barrel. One producer offers PUR-granulate too. The glue in block form has a smaller surface compared with granulate, which reduces the danger of humidity interlacing. Due to the comparatively low working temperature, PUR is most suitable for thin thermoplastic films.

APAO-R (Amorphous-Poly-Alpha-Olefin-Reactive)

More details regarding the abbreviation-part APAO see APAO. The additional R means reactive. The APAO-R glue is based on polyolefin with reactive characteristics (see PUR). The adhesive is suitable for interior and exterior use and comes in block form. The APAO-R glue is used more rarely.

Water-based glue
PVA, PVAc, ...,

Water-based glue, with water portion amounting to up to 50 %, has some disadvantages compared with hotmelt glue. In production the energy consumption is very high and the production speed very low, because the water portion must evaporate. You have reduced possibilities in wrapping (only suitable for substrates with a simple profile).

Solvent-based glue
Polyurethane, ...,

Due to new emission-protection-acts it is not recommended to invest in a machine/line, which runs with a solvent-based glue.
07
How can you calculate the amount of adhesive needed for production?
Formula:

Width of overlay material in metres X Transport speed in m/min X 60 Minutes X Grammage per sqm in Kg/sqm = Mass of glue in Kg/h.

Example:

Overlay material 250 mm = 0.25 m X 40 m/min X 60 minutes X 50g/sqm = 0.05 Kg/sqm = 30 Kg/h.

If one wants to use more than ⅔ of the capacity of our melting units, we recommend making tests. The melting capacity varies dependent on glue type and manufacturer.
08
What do I need to know about the cutting and gluing process?
In the cutting and gluing process, the type of glue should be chosen according to the end use of the component and the performance goals to be obtained. For example, the glue type changes according to whether an item is to be used in the bathroom, kitchen or living room.

In addition, the desired degree of finish and gloss must be evaluated. Finally, the required output should be considered to determine the type and number of presses, and the number of application and (possibly) cutting machines needed.