What is meant by veneering?
Veneering is a relatively modern surface enhancement technology, used widely since the economic boom of the 60s when furniture manufacturers began using fibreboard, plywood or chipboard to mass-produce furniture. Veneer is none other than thin strips, as narrow as a skirting board or as wide as a wardrobe door, made of wood.
These are glued to the surface of the product that is made of a cheap alternative to solid or reclaimed wood. Performed manually in the past, today's automatic machinery and dedicated technologies enable companies to apply veneer non-stop at extremely high speeds, reaching levels of productivity that suit the large volumes they process each day.
Benefits
Why is veneering a key process in certain industries?
Solid wood used to make furniture looks beautiful, but also has disadvantages. Over time solid wood warps and loses its original stability. How many times is a drawer hard to push back in?
Environmental concerns also began to persuade companies to reduce their use of virgin wood. This led major furniture manufacturers during the second half of the 20th century to use MDF or synthetic materials as wood substitutes. This shift in the industry made it necessary to find a way of embellishing the external surfaces with an attractive finish, improving the end product's perceived value. One answer was veneer, thin slices of wood glued to the fibreboard substrate. Veneering is used to embellish:
Furniture: the visible external surfaces of furniture made of particle board and MDF or synthetic materials can be covered by a veneer strip, narrow for small profiles, wider for panels such as cabinet doors.
Window frames: sometimes made of PVC or similar substrate, window frames can be embellished with veneer to appear wooden through and through.
Skirting boards: often made of an economical wood, wood composites or PVC, skirting boards can be covered with veneer.
What are the different automated veneering techniques used in industrial contexts?
Veneer can be applied to substrates in the form of sheets or on reels. In either case, it should be prepared for further processing. First, it should be sanded and calibrated to make sure all sheets have the same thickness and contribute to a constant surface quality. As a second step, the veneer can be lacquered, with a flexible type of coating, to speed up further processing steps.
This is a form of pre-treatment in which a type of fabric – in this case fleece – is glued on veneer. Fleece-backing veneer on reels enhances the flexibility of the surface material and makes it possible or easier to wrap profiles with radii. Veneer sheets can be fleece-backed and turned into reels on a fleece-backing machine. Both, PVAC and PUR adhesives can be used for fleece backing.
Veneer sheets require a special infeed system and a roller glue application system. They can be applied flat to a panel or used for profiles with simple geometries. Sheet flexibility depends on the quality of the specific veneer type. Coating with veneer sheets allows you to quickly switch from one type of wood to another.



Veneer on reels has to be fleece-backed and the various sheets have to be connected. They can be connected with aluminium strips, tape or a joint. The adhesive will be applied by means of a slot nozzle. The process is safer and more economical since you work with endless material. For the same reason, it enables you to work at higher production speeds.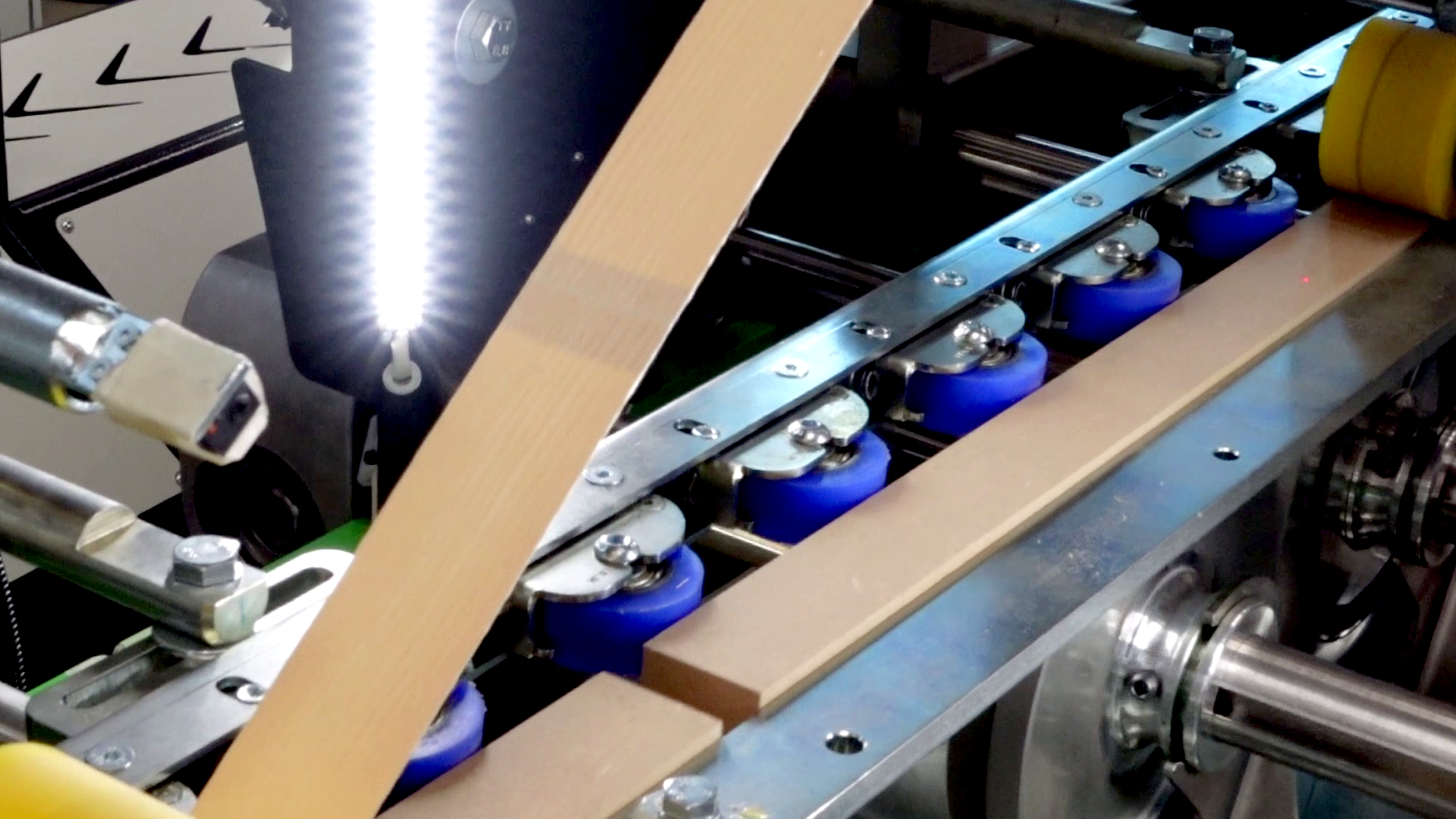 Core positioning control
Core positioning control is a special, efficiency-increasing add-on when working with veneer on reels. It recognises the aluminium strip that connects two sheets automatically and ensures that this strip will be placed between two profiles. This solution minimises the production of waste material and optimises the use of substrate and adhesive. To boost your productivity, you can combine it with an automatic reel-changing system.
Discover the machines used for veneering
We have helped hundreds of companies around the world achieve their quality, efficiency, and productivity goals. Here are their stories.
We have helped hundreds of companies around the world achieve their quality, efficiency, and productivity goals. Here are their stories.
Explore the topic on our blog. You can find articles on technologies, innovative techniques, and tips to improve the efficiency of your finishing line.
Explore the topic on our blog. You can find articles on technologies, innovative techniques, and tips to improve the efficiency of your finishing line.
We've been innovating in the surface finish field for sixty years.
Cefla Finishing is a hub of expertise, a trusted source and partner who can help you achieve your business objectives.
Frequently Asked Questions
Frequently Asked Questions
01
What kinds of wood can be used as veneer?
Any type of wood can be used as veneer, but their flexibility varies. It depends on texture and structure. Beech and maple are quite easy to apply while macropore trees like oak and ash are more likely to crack when trying to wrap radii.
02
Which is the maximum width and length of a veneer sheet?
The usual width would be up to 400 mm, larger widths are possible, but not economical. The common length is up to 2 metres, exceptionally up to 3 metres.
03
Which types of glue can you use to apply veneer sheets or reels?
In former times, PVAC was widely used for veneering. Today, hot melt glues like EVA, Polyolefin and PUR are commonly applied adhesives. When it comes to pinewood, special adhesives are required because of the resin.
04
To which types of substrate can veneer sheets or veneer on reels be applied?
Typical substrates would be MDF, HDF, chipboard, wood or plywood work pieces. These can be both profiles with a 3D geometry or flat panels.
05
Is it easier to work with veneer sheets or reels?
Working with reels is more economical and means higher process safety since it is an ongoing process. Veneering with single sheets allows for higher flexibility since you can simply feed the machine with different types of veneer sheets in whatever order you need (e.g. 3 sheets of oak, 2 sheets of ash, 4 sheets of beech…).
06
Which radii can be coated with veneer?
The flexibility of the material depends on the pre-treatment and the type of wood you use. A calibrated, fleece-backed veneer on a reel treated with Hot Coating can manage nearly all radii. A raw veneer sheet could manage a 5 mm radius, still requiring special tools to do the job.