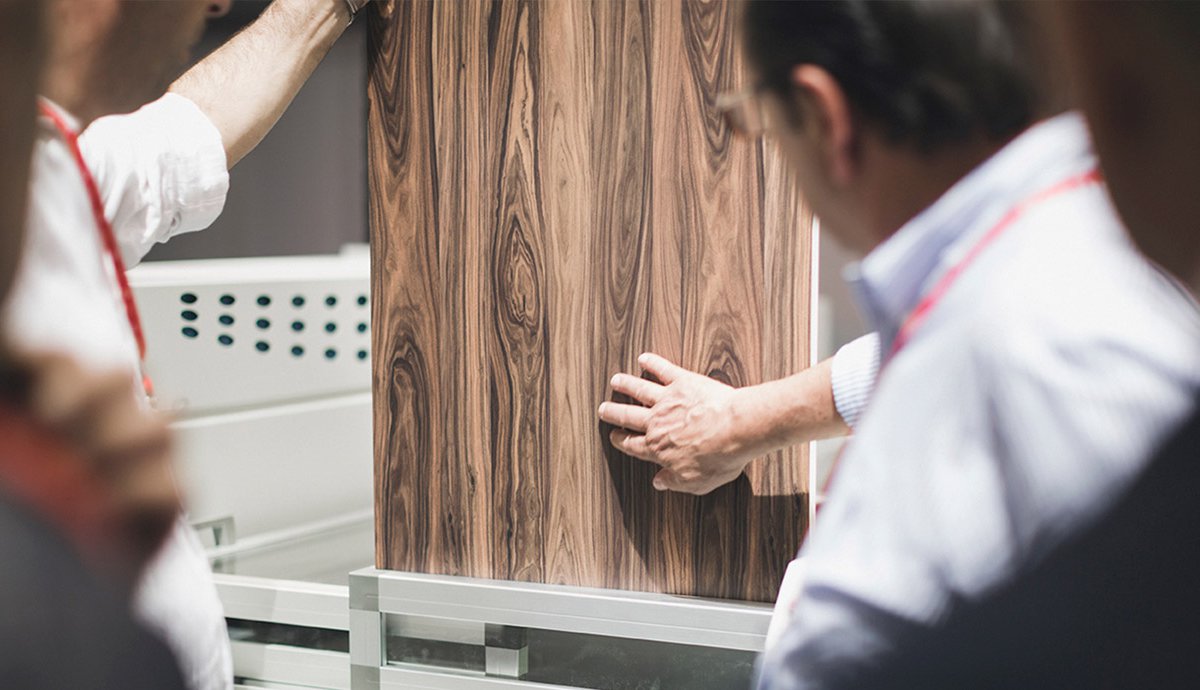 Competitive because your degree of flexibility allows you to respond immediately in face of changing trends and fashions. Competitive because you save time, reduce stocks of semi-finished goods and reduce equipment in your production line. Appealing because you can respond rapidly to each demand being able to offer customised, top quality, durable products.
The key issue facing customers is the need to combine high productivity with the high degree of customisation required by the market. In particular, the ability to obtain realistic, high-volume, high-quality reproductions of natural (wood) patterns with extremely hard-wearing surfaces, all at an affordable process cost. A further commercial benefit is the ability to produce one-off panels when required. By scanning the desired pattern, you can respond to impromptu requests or replace damaged pieces with much less effort and in a much shorter time than before.
Ideal for furnishing components, doors, flooring, PVC sheets and packaging
Our J-Print SP and TD machines for colour and 3D, integrate seamlessly into complete printing and texturing lines that perform the entire process, from preparation of the raw material to the finished product. J-Print industrial digital printers, supported by our process knowledge and expertise, together with careful selection of inks and technologies, responds better to the needs of durability, depth, naturalness and definition of the textured effect.
The smart solution for edging manufacturers
When you need to faithfully reproduce the pattern from the panels to which the edging will be applied, with a short response from the request to the delivery of the finished material, and with small batches. J-Print SP roll-to-roll (R2R) for edging strips produces reels of decorated edging on demand, even in small batches, with preparation, printing and finishing in a single reel loading/unloading operation.
Naturally beautiful and naturally resistant for skirting and profiles
J-Print SP top-side printers for skirting and profiles is able to replicate the pattern from the floors on which the skirting boards will be fitted, with short response from request to delivery of the finished material. Even for small batches, manufacturers can reproduce natural patterns, particularly those of wood varieties, with the most natural appearance possible. Textured effects are also possible with the J-Print single-pass printer.
In short we provide complete lines, from preparation of the bare skirting to the decorated and finished product; fine-tuning of the entire technological process, from reception of the flooring samples to be reproduced; support to help our customers acquire the necessary knowledge and experience for the preparation of final print files.
Haptic effects and EIR (Embossing In Register)
The J-PRINT TD employs the technology to create positive and negative tactile effects with outstanding realism and an affordable, reliable process. J-PRINT TD, performs embossing in register (EIR), printing with a resolution of 400 dpi and speeds reaching 50 m/min. The printer uses special inks, ensuring the same surface resistance as you would expect from any high-quality flooring. Whether it's wood, MDF or cork, you can digitally print and emboss with exceptional 3D quality.