What is an edge coating system?
Edge finishing is carried out with special equipment able to perform several actions:

Today, we have a number of edge coating solutions available, depending on products, materials, shapes and edge finishing methods. The technologies for edge coating range from spray coating to roller coating, vacuum coating and even digital printing.

Advantages
Edge coating: advantages
Edge coating can respond to several needs, on a case by case basis:
Improve the appearance of the workpiece.
Deliver a personalised finish in terms of colour and texture.
Coated edges enhance product quality, increasing product value.
Coated edges ensure greater resistance and water tightness, for example if the surface is exposed to steam or water.
Finishing line for panel stacks
Painting 'stacked edges' is still very much in demand on the market, many high and low-productivity lines need such a solution to complete the painting process.
Usually developed for water- and solvent-based products, the line allows the complete painting process to be handled fully automatically by anthropomorphic robots, thus reducing all manual steps.
The certainty of iGiotto's repeatability allows full control over productivity, the quantity of paint applied and the resulting quality of the final product.
Edge coating technologies
Depending on the product and the material, different technologies can be used to finish and coat edges. Let's start from the quintessential edge coating technology: by combining exclusive features and patented devices, we have become industry leaders in this field.
The edges of panels can also be coated by a Cartesian spraying robot such as iBotic, equipped with guns with movement about 5 axes, programmed to coat the edge of a panel fed through the spray coating area in "tracking" mode.
iBotic is a high output solution that guarantees both an excellent finish quality and a superior level of flexibility.
Generally speaking, roller coaters only coat flat surfaces. However, rounded edges can also be effectively processed provided the equipment includes a soft roller.
Edges (straight or with small radii) can therefore be coated by also using roller coating technologies. Our patented soft vertical roller automatically adapts to the shape of the edge without needing any extra equipment.
Another commonly used technology, vacuum coating is probably the most widespread method, not only to coat but also to seal edges, protecting them from humidity.
Our vacuum edge coating solutions include Talent, a patented vacuum system to seal parquet floors. The following products are compatible: water-based lacquers, UV curing water-based products, UV-100%, sealants (wax, paraffin, glue).
Specially developed to handle foils with thicknesses ranging from 0.1 to 2 mm and a printing width of up to 500 mm (19.7"), our industrial digital printing solutions also respond to some edge coating needs.
These are specific and customized solutions that should be evaluated together to identify the best one to meet flexibility, productivity and quality goals. For this reason, we are available to discuss with you how industrial digital printing can help you respond to edge finishing requirements.
We have chosen to combine coating and filling with sanding of flat and raised panel edges to offer a one-stop solution, providing a cost-effective, top-quality alternative to manual processing. Our Smartedge allows the edges of MDF, veneered and solid wood panels to be filled, sanded and coated with a single roller coating system, or using a patented "vacuum" injection technology.
We are well aware that edge processing affects the entire panel coating process and should therefore be considered critically important. Efficiency for large-scale production, flexibility for just-in-time jobs and consistently high quality are three top priorities in the panel finishing process.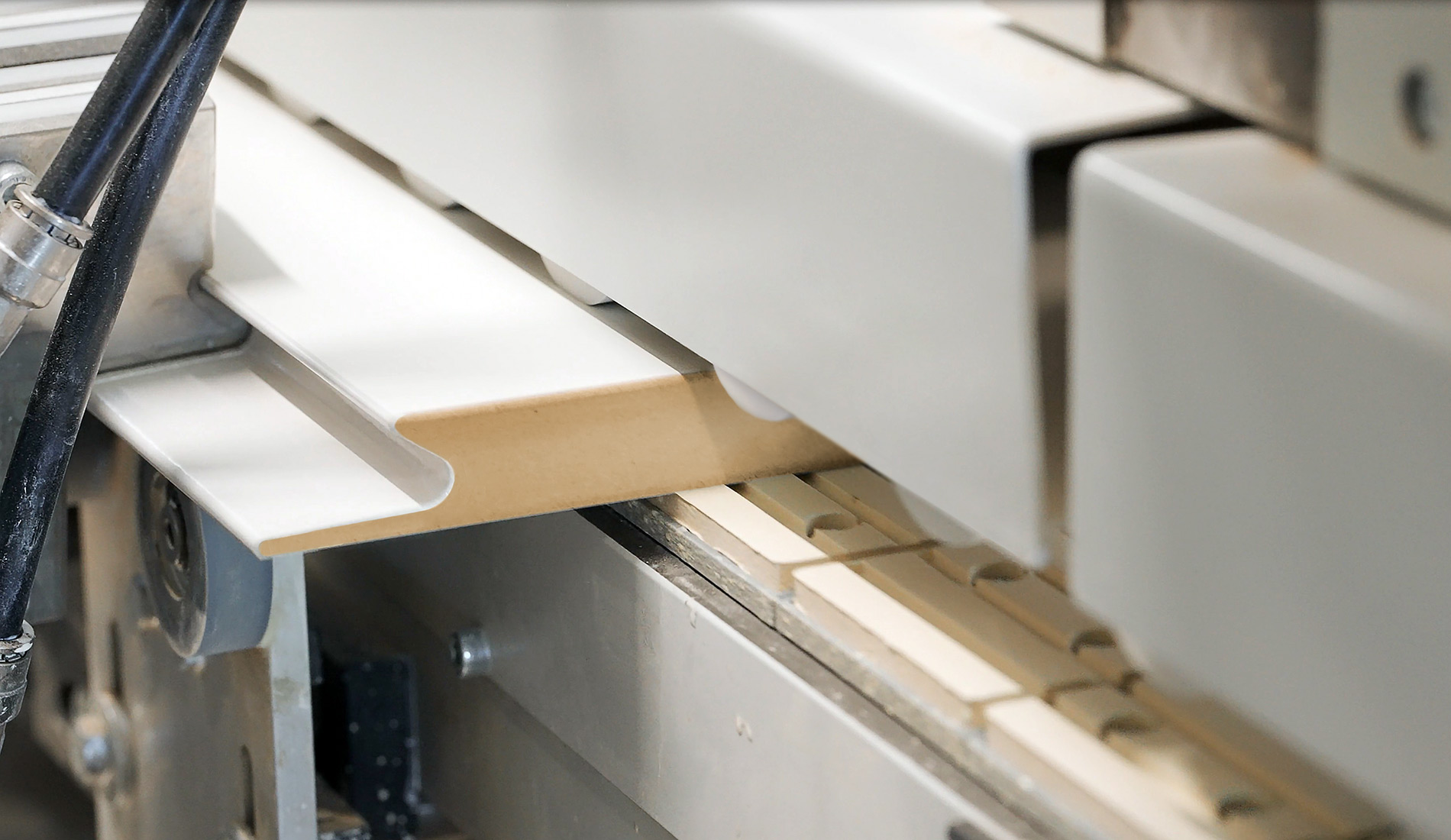 Top speed with Edge & Go
Edge coating, particularly when carried out with Smartedge, relies on our patented Edge & Go system, consisting of an application head with interchangeable straight or shaped slats to coat any type of edge.
Edge & Go lets you change over to differently shaped edges without having to turn off the vacuum tower. Switching from a straight edge with a 3 mm radius to a J-Pull handle edge, for example, takes less than 15 seconds.
Discover our edge coating machines
We have helped hundreds of companies around the world achieve their quality, efficiency, and productivity goals. Here are their stories.
We have helped hundreds of companies around the world achieve their quality, efficiency, and productivity goals. Here are their stories.
WHITEPAPER
Do you know how to work around bottlenecks and other edge processing and coating issues?
Explore the topic on our blog. You can find articles on technologies, innovative techniques, and tips to improve the efficiency of your finishing line.
Explore the topic on our blog. You can find articles on technologies, innovative techniques, and tips to improve the efficiency of your finishing line.
Are you looking for the ideal solution for your coating line?
We are ready to make our know-how available to you to explore together the potential of Cefla coating technologies in your industry.
Frequently Asked Questions
Frequently Asked Questions
01
What's needed to coat edges?
To coat edges you need a specific machine that coats, putties and sands the product edges. That's why we've designed and developed Smartedge, a machine for coating, puttying and sanding edges. It can be configured to suit the customer's specific needs, edge shape, product type and the required productivity.
02
What are the advantages of edge coating compared to a lining?
Coated edges become an integral part of the panel, ensuring insulation against steam and water after total coating with sprayers. In general, coated panels are of higher quality than lined panels.
03
What technology do I need to coat edges?
To coat edges correctly, vacuum and roller technologies are required. It all depends on the shape of the edge and the product type, which might be MDF, veneered, reconstituted veneered or wood.
04
What's the most suitable edge coating solution?
For quality coating of straight edges with radii and shaped edges, vacuum technology is needed. If, however, edges are straight with small radii, roller technology will be more suitable.
05
I have edges of varying thickness; is there a machine that can work with all of them?
The standard edge coating machine designed by Cefla Finishing can process panels that are between 5 and 60 mm thick.
06
Can coating consumption be controlled during edge coating?
Coating consumption can now be controlled manually.
07
I have a very flexible production set-up. How much time do I lose setting up the machine for production changeovers?
Where there is a specific need for high flexibility, the configuration of the machine (i.e. the number of application and sanding units) determines the machine-set-up time, which can vary from 10 to 30 minutes.
08
Is an edge coating machine very maintenance-intensive?
On a coating machine, routine maintenance involves monthly tasks such as conveyor cleaning, lubrication of ball bearing pads and all metal parts with horizontal and vertical movement.
09
Can I easily manage programming of my workpieces on edge coating machines?
Thanks to a PLC with 100 programs, Smartedge can keep tabs on production data (number of pieces machined, number of metres, number of hours worked) and belt sander/wheel inputs-outputs, tool speed and conveyor systems.