Achieving coating quality and consistency, together with the highest production efficiency and minimal downtime is the major issue facing companies who are coating complex 3D objects, as well as windows and doors.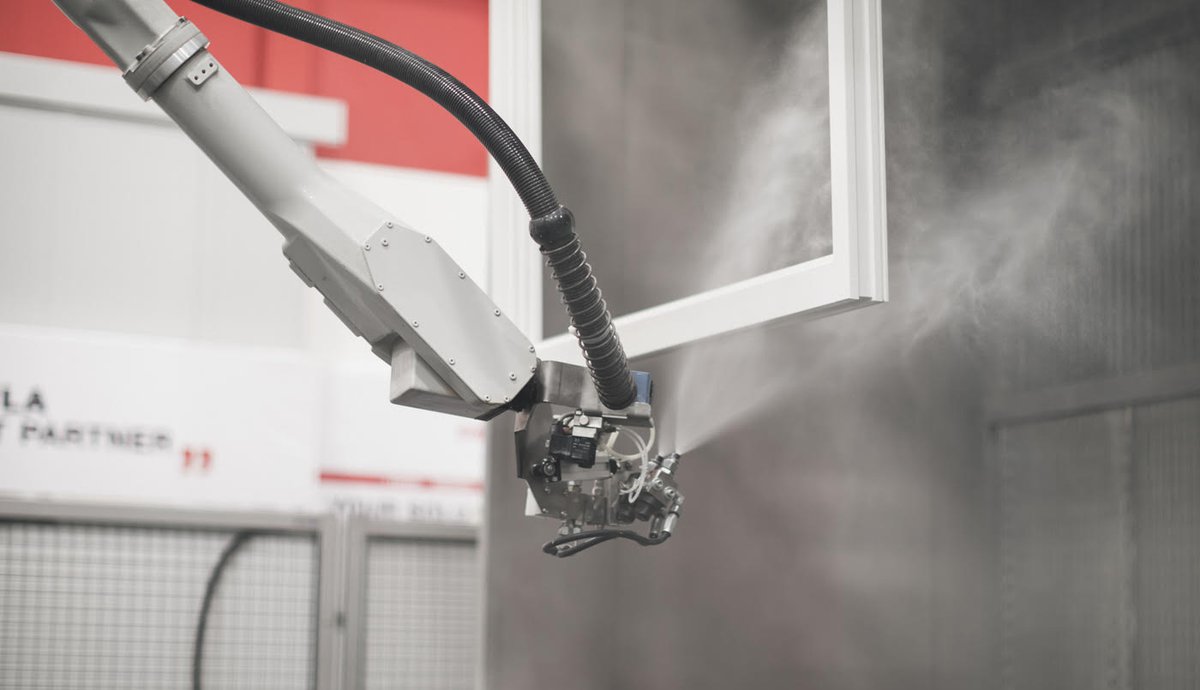 iGiotto when used in conjunction with our exclusive cVision 3D Reading Barrier ensures time savings through coating process automation, improves the quality and consistency, thus leading to reduced lacquer consumption and lower costs. Faced with the following key issues, companies can become instantly more competitive by investing in a system where special software and automation provide immediate benefits.
These are the main challenges we have addressed:
• PROGRAMMING
Today's options allow you to manually program a robot by physically guiding its spraying arms around the complex geometrical shape. The robot learns how to move and replicates the movement piece after piece. You can also program point-to-point trajectories using a software off-line, but each batch will require your manual intervention to enter data into the software to obtain the coating parameters.
• COATING
Apart from the cost of a skilled operator, manual spraying of window frames often leads to fluctuating yields and coating inconsistency. Lacquer consumption frequently exceeds the optimal amount by 15 to 30%, leading to high filter replacement and disposal costs.
• OUTPUT
Production batches can often be small or customised. Operators will need to stop the line for colour changeover or to re-program the trajectories.
All this is an obstacle to production efficiency and incurs costly downtime. So let's see how we have solved these issues:
cVision avoids the need to manually program an anthropomorphic robot. This means no time at all spent defining trajectories. It's all done automatically. cVision acquires the 3D image of the piece to be coated and uses its special software to determine the best trajectories. You save time (at least 50%), can be sure of obtaining optimal parameters and consistent coating quality from the first piece to the last. When iGiotto comes into play, the robot capitalises on the accuracy and optimisation of the pre-defined trajectories. In the case of doors, spraying with the new 3-gun wrist now saves considerably on lacquer consumption and ensures the best possible quality and consistency. Colour changes can be performed without even stopping the equipment, even for different products, so downtime is eliminated. And as new pieces enter the overhead line, the software makes sure iGiotto can switch from one piece to the next and one colour to the next without interrupting production.
More info about iGiotto and cVision
iGiotto
iGiotto is a complete spray coating system for water-based and solvent-based products using an anthropomorphic robot designed to paint large-sized objects such as doors, window frames or objects with a complex shape, and materials other than wood. Products transit on overhead lines and exit the spraying area into a drying tunnel before being collected in batches. Constant speed and constant distance between the spray guns and the product optimise lacquer consumption and ensure coating consistency. In environmental terms, lower consumption and less waste improves sustainability.
cVision
The latest-generation, automatic 3D reading system (laser + camera) acquires position, size and shape of pieces in transit with unprecedented precision. The combined action of the laser and ultra-high resolution cameras allow iGiotto to automatically generate precise work trajectories based on the "recipes" of objects present in its database.
---