Your future-proof Smart Factory
Local service, quick delivery of spare parts and technology: with Cefla Finishing you turn your company into your own efficient and always connected Smart Factory.
We know how time is critical in a high-productivity environment.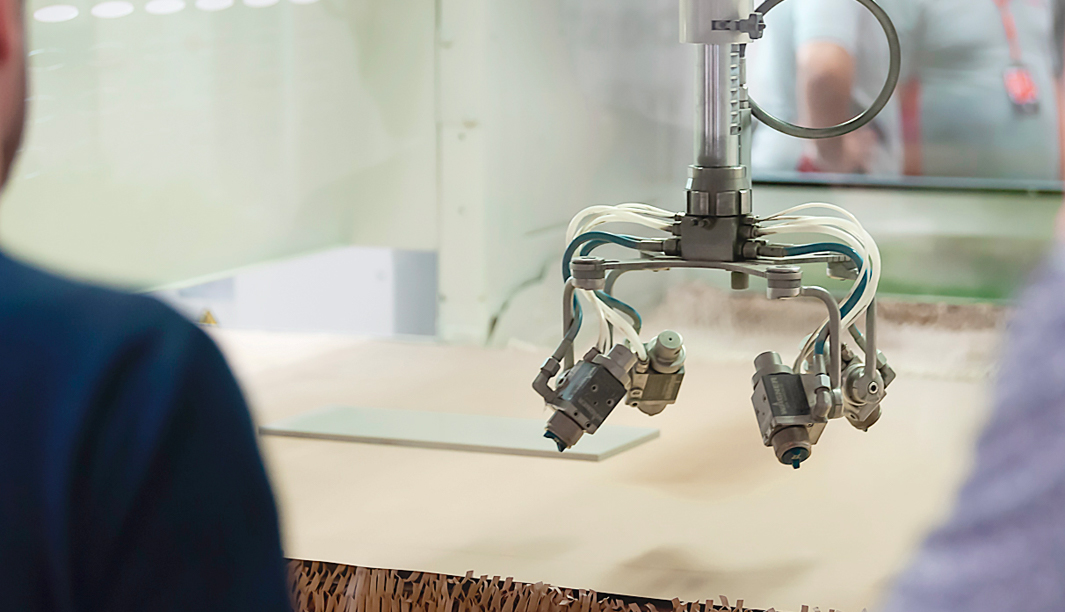 Service near you,
wherever you are
Cefla Finishing service is always close to you, thanks to software designed for remote assistance, an extensive network of branches and authorised service centres.
No matter where you are, at any time you can request high-quality training courses, spare parts and support.
Spare parts in 24-48 hours
Spare parts for our solutions are stocked in Cefla Finishing warehouses in Europe, United States and China. Over 20,000 different part numbers are ready to be shipped and delivered to you in 24-48 hours.
Thus, your production will be back on track in a very short time.
Take your business into the future
On-site support by qualified technicians
Digital technologies and processes, analysis and monitoring
Simulation, training and virtual reality
We connect people, machines and spaces through service packs and technologies that shorten all distances.
We support you in any circumstance, anywhere in the world, and whenever you need our services.
No unforeseen events, just efficiency, reliability, and predictability. We offer custom maintenance services to help you get the most out of your finishing line.
Frequently Asked Questions
Frequently Asked Questions
01
Is there something that allows me to monitor my coating process?
Of course. At all times cTracker, our line supervisor, lets you:
- set up and check the entire line from a single point
- trace workpieces on the line
- export alarms/production reports
- exchange information with your internal company systems.
02
How can I know whether the production process is working properly?
Our line supervisor, cTracker, provides you with an OEE/KPI section that lets you monitor line capacity and productivity. And you're not alone! We provide customers with expert technical support both locally and globally. A far-reaching network of branches, agents and affiliates provides authorised, highly qualified technical assistance. We also provide remote assistance by providing immediate answers to on-line questions, thus ensuring real-time situation monitoring and accurate diagnostics as regards both technical aspects and the process.
03
How can I get an overview of the whole line from a single point?
Our cTracker line supervisor has been specifically designed to control our machines from a single point on the line. In fact, on large-scale lines with multiple machines, it would be unthinkable to manage production changeovers and modify parameters or work recipes via the control panels on each individual machine. That's why the cTracker solution manages everything via a single screen at the beginning of the line.
04
How can I simulate my production process?
Simulation is a valuable tool, hence the introduction of a pre-sales service called cCloner. More specifically, this line simulator can:
- show a realistic 3D configuration of the line layout: a sound, reliable picture made up of measurements, 3D imaging and objective data.
- provide accurate line operation simulation: to prevent problems, avoid machine downtimes and have more general information right from the design stage.
- simulate real productivity and consumption: finding the best configuration gives you a realistic forecast of the situation, also in terms of productivity and energy/heat consumption.
05
Is there an alarm system to tell me if something is wrong?
Yes. Alarms are an essential part of the machines as they provide information vital to the prevention of downtimes and the easy pinpointing of problems. Together, the individual machine control panels, cTracker line supervisor and IoT cMaster ensure you have detailed alarm lists available at all times. With cMaster you can also get automatic notifications on your mobile devices to keep you informed wherever you are.
06
Can I buy spare parts directly via the machine?
Yes, cMaster now features a Spare Parts section (available on enabled machines). This feature lets you put in a request directly via the virtual Web App cart, thus speeding up the spare parts management and retrieval process.
07
Is there a plant maintenance planning tool?
The IoT cMaster tool features a Maintenance section where you're offered maintenance services, grouped by function. The software manages scheduling and reminds you of deadlines according to actual machine running times.