High volumes, multiple shifts, mass production and a limited variety of finishing patterns represent one scenario related to edge processing on roll to roll equipment. Small volumes, tiny batches, customisation and an unlimited choice of finishing patterns are at the opposite end of the scale. Catering for both customer types means mastering two different technologies.

On one hand, roller coating equipment enables high volumes, non-stop production and minimises linear or square metre costs. On the other hand, a single-pass digital printer allows for maximum customisation, enhanced flexibility, fast time-to-market and superb quality.
We know your industry and each process requires a dedicated solution
One benefit of entrusting your roll to roll needs to Cefla Finishing is that we have over 60 years' experience serving the furniture manufacturing industry. This places us in a position to advise on how to manage each process and choose the most appropriate solution.

Whichever technology is best adapted to your needs, there is a turnkey solution which includes lacquers or inks for the start-up phase, all of which have been tried and tested on our machines. Furthermore, our Finishing LAB is open to all customers interested in running tests on their own products to pinpoint any critical issues before production starts.

Check out our LAB - the world's largest laboratory dedicated to surface enhancement technologies.
The right machine for you
When a customer is running machinery non-stop and processing huge volumes with little variety, our Smartprint roller coater with an engraved application roller will maximise productivity and keep operating costs to a minimum.
Smartprint


Companies looking for flexibility, processing small batches and responding to the demand for customised patterns will find our single-pass industrial digital printer J-Print SP to be the best answer.



J-Print SP


For both scenarios, we also provide equipment for bottom primer application, drying ovens and roller coaters for high-gloss and deep matt finishing. The equipment can be completed with roll winders, unwinders and tensioners, and alignment devices.
Besides the right equipment, we also provide software solutions to allow you to monitor your lacquer ink consumption, helping you achieve savings throughout the process.
What could your line look like?
Cefla Finishing has the broadest range of finishing technologies and machines that have been designed to deal with specific processes such as roll to roll. Imagining your set-up will depend on many factors, all of which we will consider when establishing the best solution to meet your needs.

Contact us for more detailed information or fix an appointment with our specialists to visit our laboratory and run a few tests.
Products and Solutions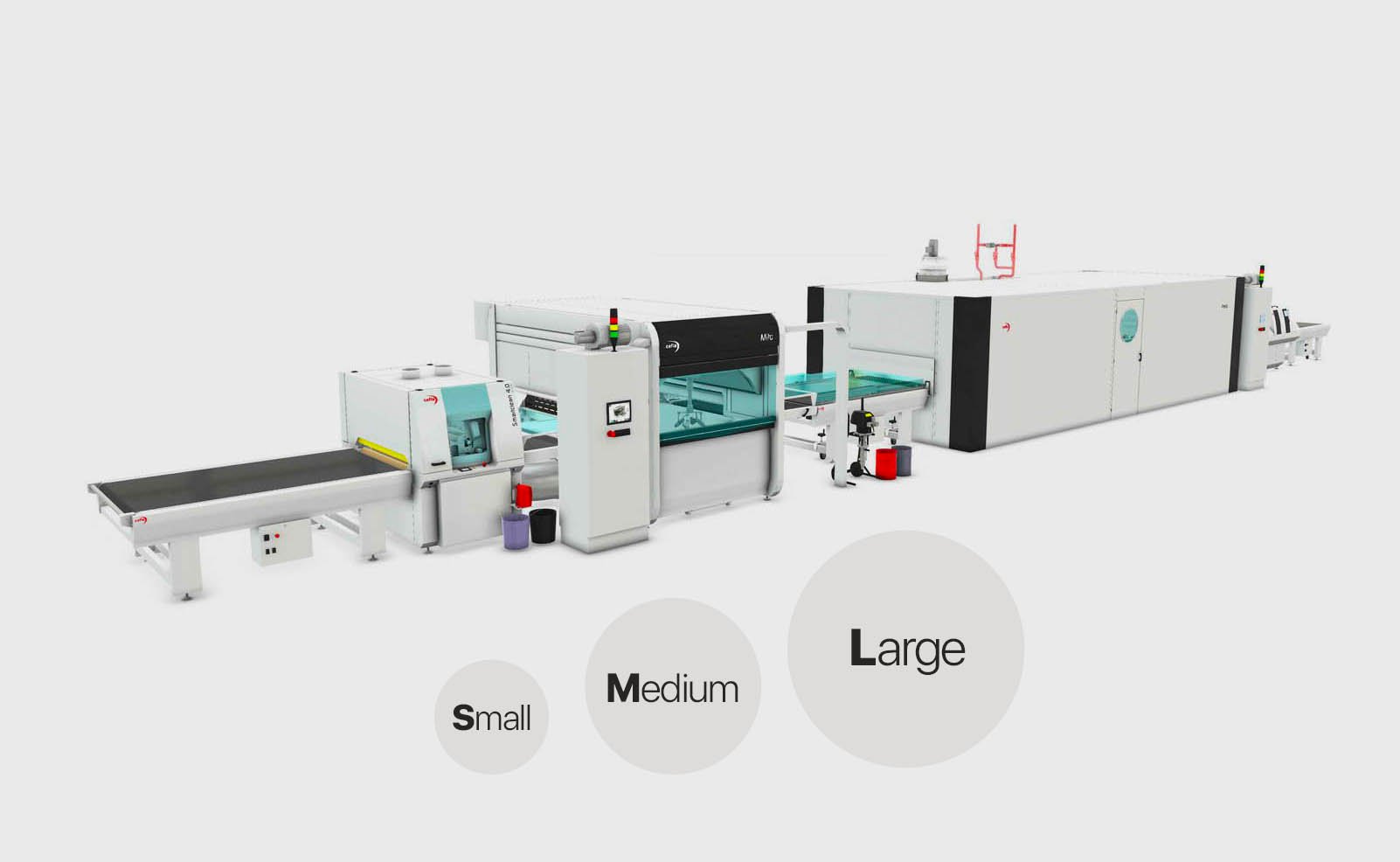 The search function is now available for complete production lines. Search results will indicate the most suitable solution, based on the level of flexibility required, the productivity range and the overall footprint. Solutions are classified as small (S), medium (M) or large (L).