Following 15 years as a high-performance, twin-arm spray coating solution, the iBotic Cartesian spraying robot has undergone a major overhaul to increase uptime, efficiency and sustainability. With a new HMI, companies can also access a wealth of data to help improve production efficiency and monitor operating conditions either directly on the machine or by sharing them with an ERP.
iBotic: efficiency and reduced lacquer/solvent consumption
To address an increasing demand for small, custom batches, iBotic implements optional features to ensure flexibility, minimise or eliminate downtime and reduce lacquer or solvent consumption.

With the new, patented TIMESKIP device, on-the-go colour changeovers are made possible without interrupting production. While one arm is automatically set aside for cleaning and colour change, the second arm continues to spray workpieces, running no risk of cross- contamination. This potentially adds on average 90 minutes* of effective production time per shift and helps achieve ROI quicker than usual.

TIMESKIP also handles cleaning procedures in such a way as to reduce solvent consumption and cut lacquer wastage.
Functional efficiencies to boost productivity
Several functions can now be controlled simultaneously on the same arm:
angle adjustment of the edge spraying gun
quick gun cleaning for colour changeover
allowing users to automatically adapt application to different panel edge shapes, and perform extremely fast colour changeover operations.

Using a PID controller to compensate for filter clogging, the automatic adjustment system for the exhaust fan makes iBotic far less dependent on the actual presence and skills of an operator.

Circulation of overspray suction water has been improved to reduce stagnation areas, thereby ensuring faster unscheduled maintenance and cleaning.

By relocating solvent trays, making them accessible from the side of the machine, stoppages can be avoided.

A specific recipe to carry out paint grammage weighing at the beginning of each shift, or whenever necessary can now be carried out without wasting any belt paper.

Installing an optional, internal camera enables any connected device to transmit an internal view of the machine to monitor operating conditions, also facilitating remote servicing and troubleshooting in case of identified faults. A single operator can monitor production from a large screen** at the loading end, while feeding the line at the same time.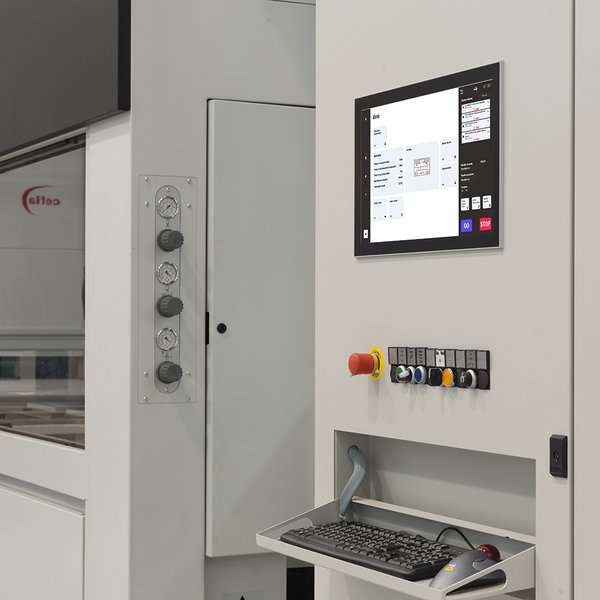 iBotic: brand new user-interface
The iBotic cartesian spraying robot now has a new HMI based on an industrial PC with Windows 10 that provides intuitive commands, user-friendly graphics and a software integration to help operators manage the equipment. The learning curve for operators is fast and little initial training needed. Included are diagnostic tools, information to support maintenance requirements, plus valuable production data which can be consulted directly or fed into the company ERP to analyse productivity.
Energy recovery system: reduce operating costs
POWERBACK implemented on the new iBotic accounts for a 15-20% energy saving, reducing operating costs and increasing overall sustainability, environmentally and economically.

* based on an average of 30 colour changes taking 3 mins. each

** not included in the supply
Discover more on iBotic in this webinar