Applying a basecoat to a flat panel is usually performed using one of the following techniques: roller coating, spray coating or curtain coating. Each system has specific advantages depending on a number of factors. Introducing an innovative application technique using vacuum technology adds a new set of opportunities and benefits for manufacturers of cabinet doors, panels and bathroom furniture.

Any wood or wood-based flat panel can be coated using vacuum application technology, especially those with rounded edges.
A closer look at vacuum application technology
Easily used to process flat rounded doors, J-pull versions and panels with ABS edges, Smartvacuum applies 100% UV acrylic paint in a single pass without the application head coming into physical contact with the substrate. Between 100 and 140 g/sqm are deposited in an extremely clean, homogeneous manner avoiding any product build-up on any parts of the panel. The process is simple, clean, eco-friendly and cost-efficient.

Flash-off is performed after basecoat application and prior to the panel completing its drying in a UV-R oven.
Which benefits does Smartvacuum add to the coating process?
Using a 100% solid UV product, this makes it a relatively sustainable process and the coating is more stable over time compared to polyurethane or polyester-based products, also requiring a shorter drying time. One benefit which distinguishes the use of vacuum application techniques regards the matching between panel surface and edge.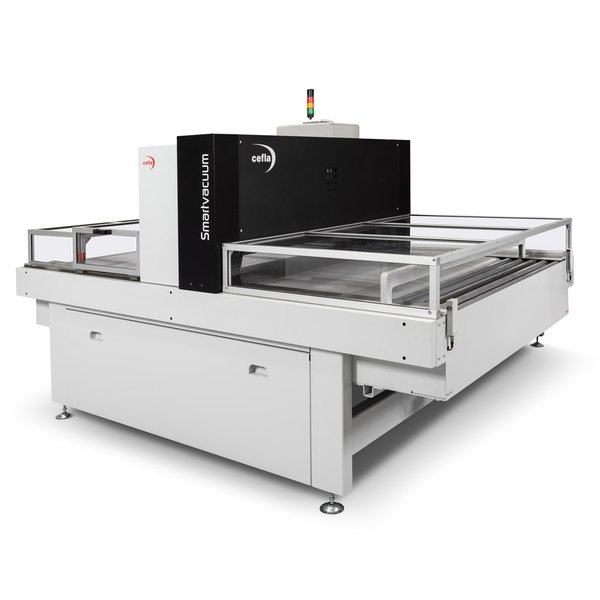 Smartvacuum: the perfect partner for Smartedge
Smartvacuum and Smartedge use the same technique and the same lacquer. That makes it simple to achieve the best junction seam between the flat surface and the edge of the panel. Softer to the touch than what can be achieved using other techniques, the quality of the finish on panels with rounded edges is improved and fewer operations are required to obtain the perfect finish.
A complementary solution to other application techniques
Vacuum application boasts several advantages over other coating technologies, but there is no need to consider it an alternative. To appreciate the benefits, we need to consider the current techniques.
Roller coating lines
Roller coating lines include:
substrate sanding
application of basecoat for adhesion
three base coat applications with single and double coaters and intermediate gelling
final drying
base coat sanding followed by finishing
Curtain coating lines
Curtain coating lines include:
substrate sanding
basecoat application
UV gelling
UV base coat application with curtain coater and special flash-off tunnel
drying
base coat sanding followed by finishing
Spray coating lines
Spray coating lines are a closed-circuit solution applying polyurethane or polyester-based basecoats in multiple steps on flat surfaces and edges. This is followed by lengthy drying times since the panels must be stabilised at suitable intervals in the warehouse before the sanding and finishing processes.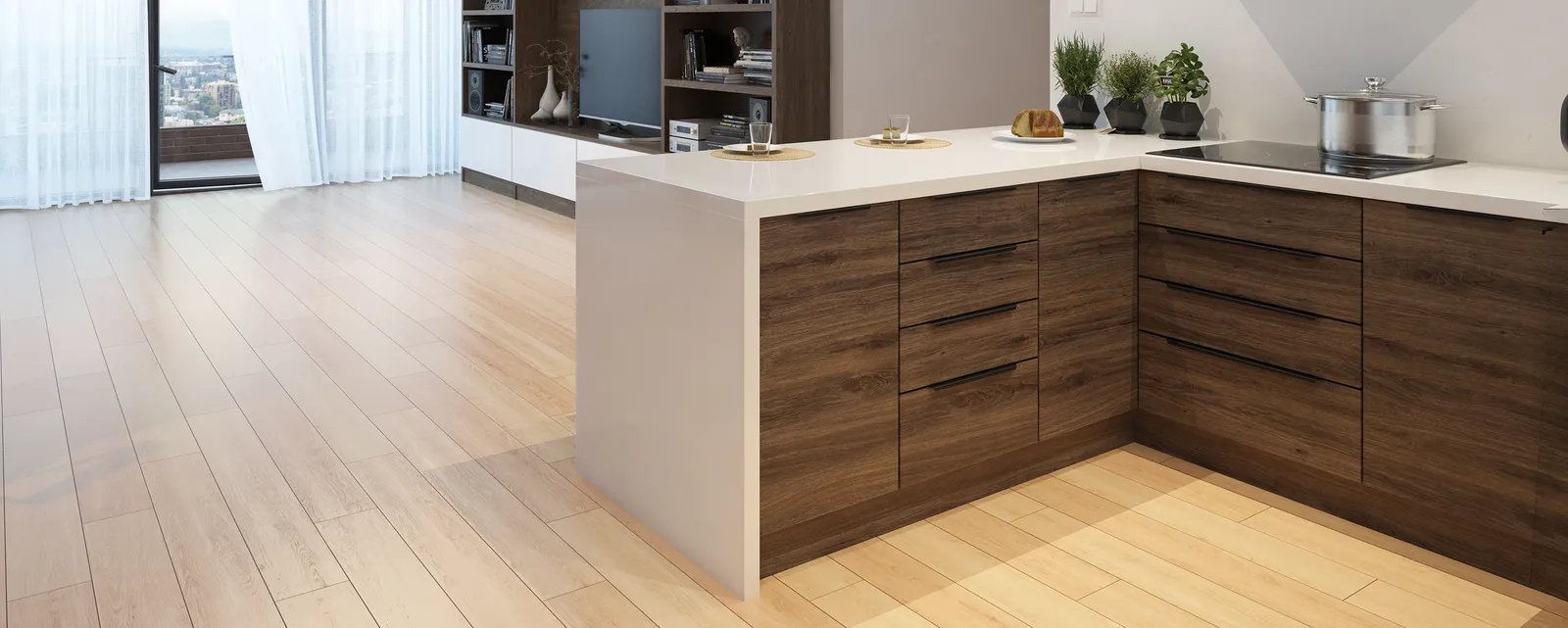 Vacuum application technology: benefits compared
Starting from the eco-friendliness of 100% UV acrylic paints, there are a host of benefits which will reduce consumables, costs, lead times, handling requirements and the need for space.
no need to round off corners after drying and before sanding
fewer machines required, so less cleaning and lower consumption
lower sanding costs and less waste
shorter lead times, production flexibility
smaller footprint, more space in the factory
fewer process stages resulting in fewer panel handling requirements
clean edge at machine inlet vs. curtain coating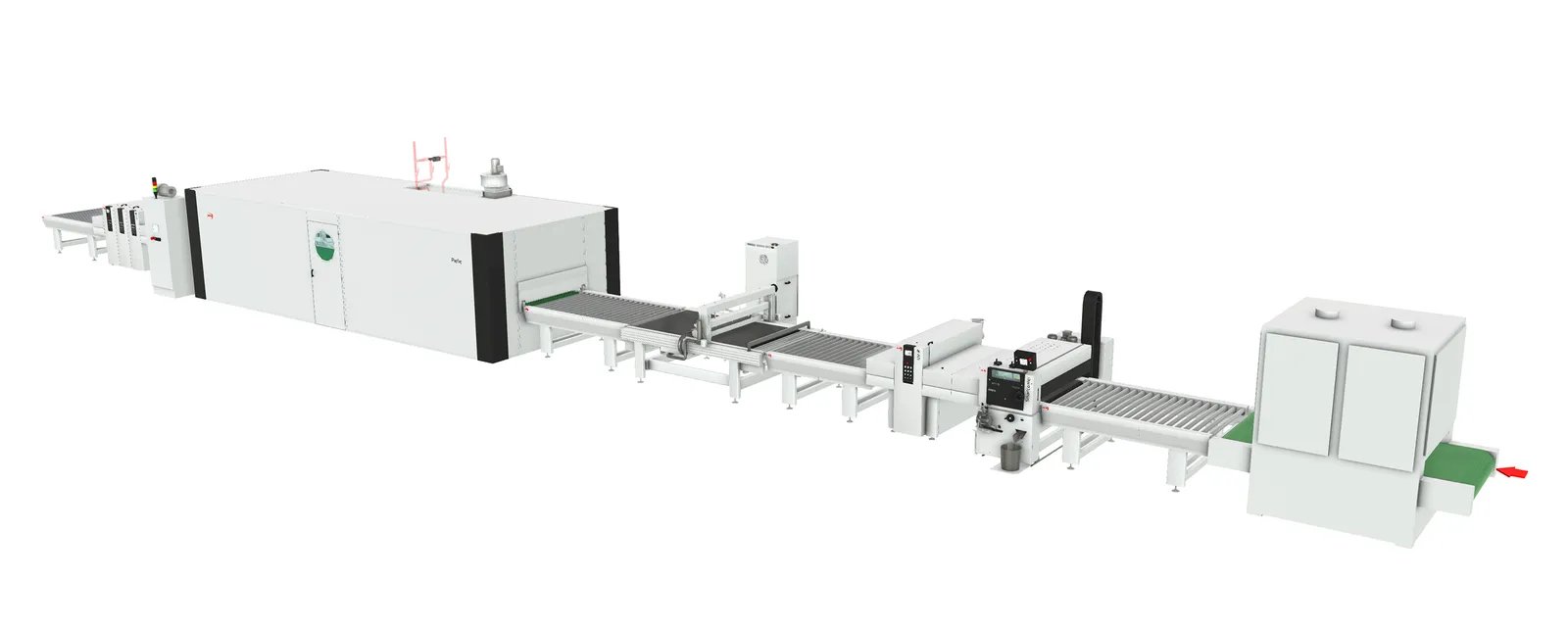 Implementing Smartvacuum, the coating line would look like this:
panel sanding
basecoat application and gelling
application of 100-140 g/sqm of 100% UV product in a single pass
flash-off for 5/6 minutes
UV oven drying
sanding or matt/glossy finish, if required, performed using another coating technique
The Smartvacuum technology, associated with the Smartedge range for edge finishing, makes the process simpler, faster, ecological and cost-efficient, eliminating many manual operations.